Cloud services contract obligations may increase by about 32 percent in fiscal 2018, according to an analysis by Bloomberg Government.
Obligations are on track to reach $6.5 billion in fiscal 2018, based on historical spending at this point in the fiscal year. That's up from $4.9 billion in fiscal 2017 and would mark the eighth consecutive year of market increases.
Both the Defense Department and civilian agencies are expected to boost their cloud services spending. BGOV projects that DOD will spend about $2 billion this year, and civilian agencies will obligate $4.4 billion.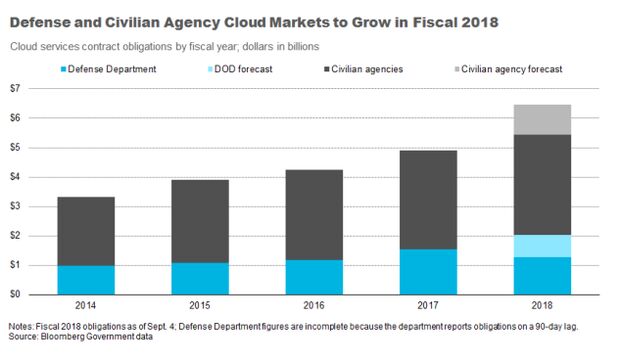 The $1.8 billion in remaining spending, with less than a month of the fiscal year left, could mean a rush to award cloud contracts and task orders before Sept. 30.
These findings are drawn from an updated cloud services market definition in BGOV's Contracts Intelligence Tool. BGOV analysts periodically update the CIT market definitions to provide a better representation of how the federal government buys products and services by adding new keywords, removing false positives found while using the markets, and refining the definition to better meet clients' needs. For this cloud services update, BGOV refined the definition based on client feedback and removed false positives. Clients are always welcome to provide additional recommendations.
The updated definition shows that the agencies and bureaus buying the most cloud services since fiscal 2014 include the Defense Department, Health and Human Services Department, National Aeronautics and Space Administration, and Veterans Affairs Department.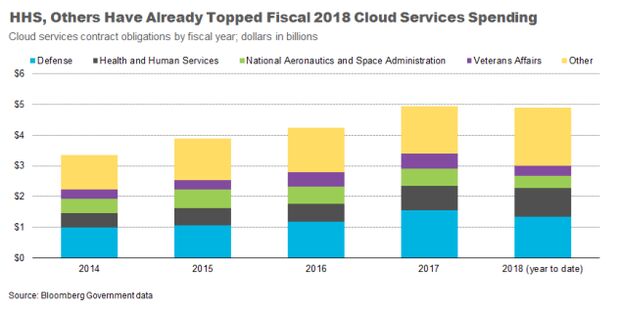 Agencies spend that money mostly through indefinite-delivery or governmentwide acquisition contracts. Top contracts include Centers for Medicare and Medicaid Services Virtual Data Center ($500.7 million in fiscal 2017 obligations), Alliant Large Business ($346.5 million), and Schedule IT-70 ($277.6 million).
The top fiscal 2017 and fiscal 2018 contractors providing these cloud services — and those who may reap rewards from the potential end of year spending spree — are shown in the table below. Perspecta Inc., the cloud services vendor with the most contract obligations in fiscal 2017 and 2018 combined, accounts for 11.7 percent of the market during those years. The next contractor, General Dynamics Corp., won fewer than half the obligations as Perspecta.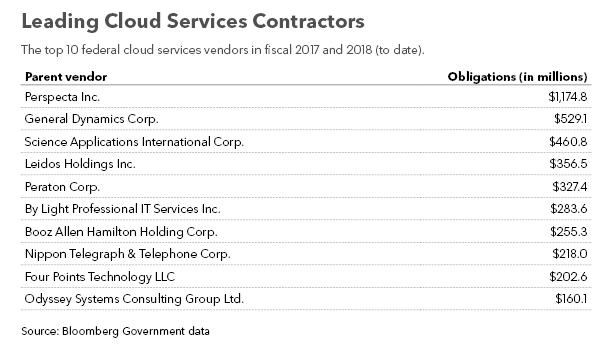 Moving into fiscal 2019, Bloomberg Government expects cloud services spending to continue rising. Agencies throughout the federal government are competing cloud services contracts, and many of them will be awarded in fiscal 2019.